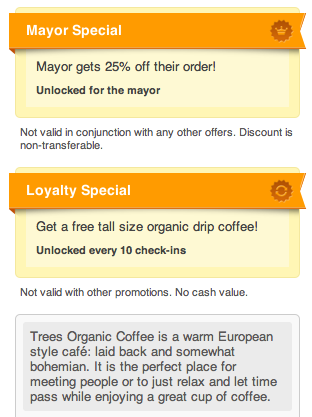 Who will be the next Mayor of Trees Organic? Actually, since there are four locations, including our Granville café, Yaletown, Gastown and Richmond, you've got four chances to rule.
For those who may not know, Foursquare is a popular smart phone application that gives you and your friends new ways to explore your city. You can earn points and unlock badges for discovering new things. Foursquare is a neat way to create a chance to connect with your nearby friends by letting them know where you're hanging out.
Check out our rewards for our Foursquare participants:
Loyalty Special
Free tall size drip coffee after every 10th check-in
Mayor Special
The mayor of each location receives 25% for as long as they remain mayor
Right now, the Mayors of Trees Organic are Steve L. (Granville), Jess S. (Gastown), Allison M. (Yaletown) and Winnie W. (Richmond) That means they gets 25% off every time (until someone else takes their place). Congratulations, Mayors!
We've only been offering our Foursquare prizes for a little while at our cafes, and our customers are already getting into the fun. We've had 805 check-ins at Trees Organic's flagship café at 450 Granville and hundreds more at our other locations.
We're also very grateful for the positive tips our customers have been leaving on Foursquare. Here are a few shout-outs for comments from our fans!
Joan M.

Fabulous mocha cheesecake and caramel latte. Soooo good!

Kirtida L.

Best Cheesecake in Vancouver!

Joel

Great lattes. Lots of buzz

Kiki K.

Pina Colada Cheesecake is a must!

Janis L.

Just get a book and enjoy a good atmosphere
Check out Trees Organic on Foursquare. Will you be our next Mayor?