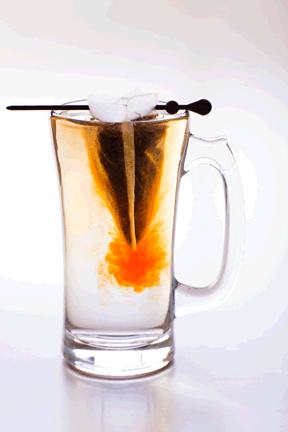 Have you tried any of our teas from around the world at our cafes? Or to put it another way, did you know we even served all kinds of great teas from around the world?
There's a great scene from the delightful film, Scott Pilgrim vs. the World that portrays very well the gulf of understanding between tea drinkers and, um, people who don't drink tea (yet):
Ramona V. Flowers: What kind of tea do you want?

Scott Pilgrim: There's more than one kind?

Ramona V. Flowers: We have blueberry, raspberry, ginseng, sleepy time, green tea, green tea with lemon, green tea with lemon and honey, liver disaster, ginger with honey, ginger without honey, vanilla almond, white truffel, blueberry chamomile, vanilla walnut, constant comment and… Earl Grey.

Scott Pilgrim: Did you make some of those up?
Don't get us wrong. We enjoy our coffee. Latte, espresso or just a regular drip cup of coffee gets us going in the morning and helps us get through the rest of the day. But tea takes a backseat to no vector of caffeine and health benefits.
Here are some of our favorite exotic kinds of tea:
Moroccan Madness Tea. Black tea with a refreshing and invigorating touch of Moroccan peppermint. This one's tasty. We could have called it our Moroccan Insanely Awesome Tea, but we wanted to keep the M-M thing going.
Sencha Kyoto Cherry Rose Tea. A blend of high quality green tea, sweet cherry blossom and morning rose flavour. It's like you just woke up in a Japanese garden. Serenity now.
Vanilla Rooibos Tea (herbal). Sweet vanilla notes. Mmmmm. Vanilla. Enriched with nutrients such as iron, potassium, calcium and fluoride. And there's no caffeine with this beverage, so this is a good, aromatic tea for when you just want to mellow out.
What's your favorite kind of tea? Take our poll and let us know.