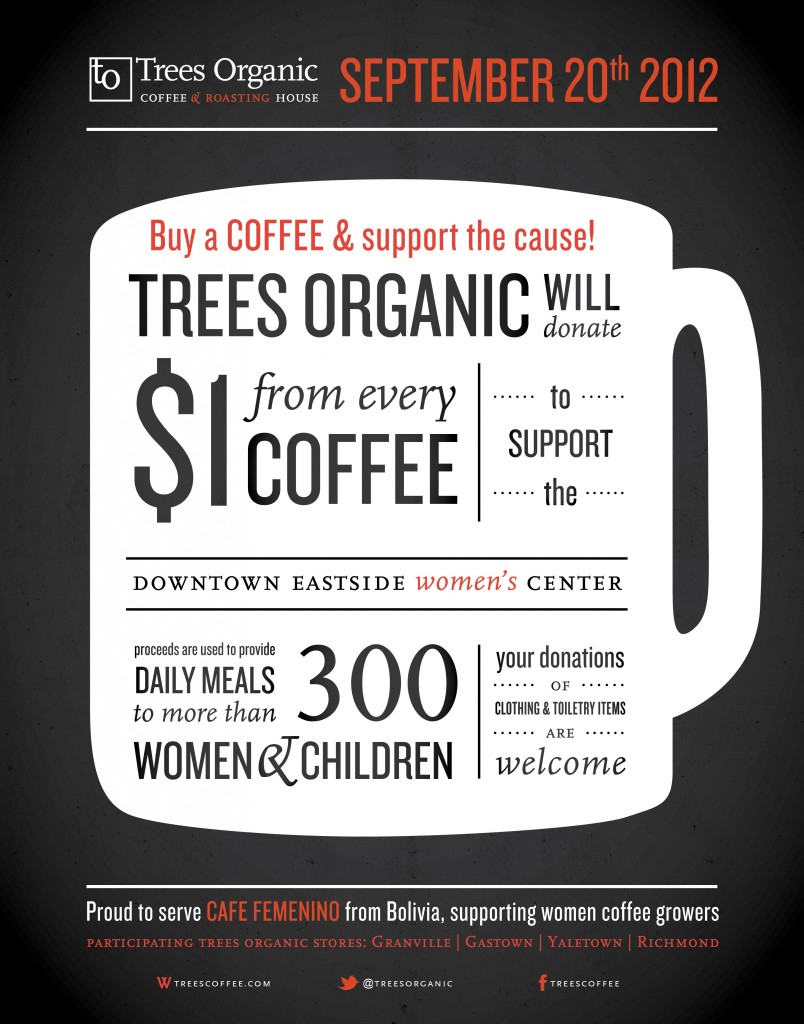 Tweet

Join us for coffee on Thursday, September 20 2012, as all four Trees Organic cafes will donate $1 from every coffee and espresso-based beverage sold to the Vancouver Downtown Eastside Women's Center. We are also collecting items of clothing and unused toiletries.
Funds raised will help provide daily meals to more than 300 women and children. Please support this good cause!
Where is this happening? Trees Organic Coffee & Roasting Houses
Granville – 450 Granville Street
Gastown – 321 Water Street
Yaletown – 1391 Richards Street
Richmond – 7700 Minoru Gate (Richmond Public Library)
Why are we doing this? We believe in giving back to our community. In June, Trees Organic Coffee joined the Café Femenino initiative. We donate part of the proceeds of our Café Femenino Bolivia coffee sales to support women coffee growers with an above fair trade contribution that they can use to fund social and economic programs in their community. The success of this effort inspired us to do even more to support our community, close to home.
What is the Downtown Eastside Women's Center? Founded in 1978, DEWC is one of the few safe spaces within the Downtown Eastside exclusively for women and their children. They provide practical support to over 300 women, children and seniors every day. As well as providing a refuge and shelter from conditions of poverty and violence, the Centre provides basic necessities such as clothing and toiletries to those in need.
For more information about DEWC, call 604-681-8480 or go to www.dewc.ca