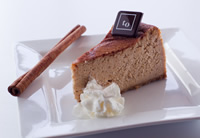 Pumpkin just tastes good. That's our conclusion after many years of experimentation with pumpkin pie and more recently, with Trees Organic's Pumpkin Pie Latte and Pumpkin Spice Cheesecake we're serving up throughout autumn. Spiced up with a sweet combination of cinnamon, nutmeg, ginger and cloves, these seasonal treats are something we look forward to all year long.
A Scary-Sweet Photo Contest
On your camera or smartphone, take a photo of your Pumpkin Pie Latte or Pumpkin Spice Cheesecake (or both — even better!). In keeping with the Halloween season, try to add a little spookiness to your photo (eg. wear a Halloween costume in the background or make a scaaaaary face).
Tweet us! Share your photo on Twitter and include our Twitter handle @treesorganic and hashtag #Vancouver #Halloween
The winning photo will be selected on November 5th, and announced via Twitter.
Our contest winner for best photo will win a 6-inch Pumpkin Spice cheesecake! Multiple submissions allowed, so feel free to drop in for a few more lattes or slices of cheesecake in the meantime. Tell your friends!