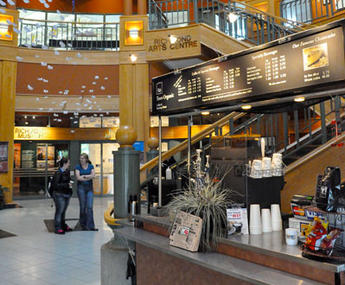 Find a center of arts and culture just about anywhere and the pleasant scent of freshly brewed coffee won't be far off. Our cafes started out on Granville Street in downtown Vancouver, but one of the first cafes to join the family was in Richmond, at 7700 Minoru Gate, right in the Richmond Library and Cultural Centre. Combining an arts centre, museum, rooftop garden and more, this is a busy cultural thoroughfare in the heart of one of the Vancouver area's most diverse communities.
We chatted with store owner and manager Hava Ben-Shlomo, who took over the location in 2004, about what makes this café stand out.
Q. The area around this café is a real cultural meeting place.
Hava. There are always special events happening right here in the building: art exhibits, or the transportation exhibit that's on at the museum. There's always a reason to come visit!
Q. What's special about your customers who come in here?
Hava. The atmosphere here is nice thanks to the kind of people who come in. They're active people, who are in from events in the cultural centre, or they work in the building, or they're students taking classes like painting, clay or knitting. There's also a swimming pool, arena and park nearby. We have so many repeat customers coming and going, you get to know them — we actually keep their customer loyalty stamp cards on hand here, so you get to know their names.
A lot of our customers are Asian, as you might expect from being in multicultural Richmond. Traditionally, we might think of Chinese people drinking tea, but Chinese people love their coffee too! The young ones especially love coffee, lattes, espresso and our other specialty drinks.
Q. I notice your sandwiches and baking is a bit different from what you see in the Vancouver cafes.
Hava. We offer a lot of our items fresh in-house – sandwiches, wraps and quiche, and dessert squares like chocolate, Nanaimo bars or date squares (Some other items are sourced locally). Lots of parents come in with kids, so we go through a lot of cookies!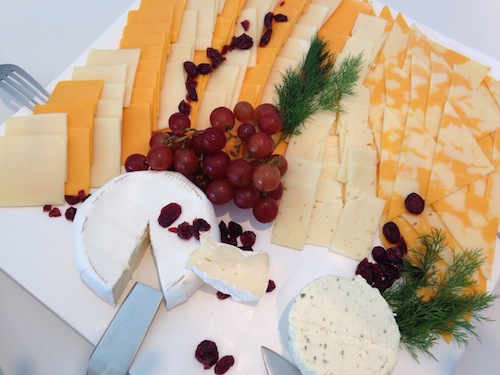 We actually do our own catering (Check out the Richmond Trees Organic's catering menu) for events, as well as for people renting rooms here in the Minoru centre. Popular items in the morning are coffee, tea and our baked goods like scones and muffins; later in the day, it's usually sandwiches, dessert squares or our big platters – whatever they want.
Q. All of the Trees Organic coffeehouses are known for having the best cheesecake around. Which flavors are most popular at the Richmond café?
Hava. New York and Blueberry are always very popular. My customers also go for the monthly special – we're selling a lot of mango cheesecake!
Have you been to our Trees Organic cafe in Richmond? Enjoy all of our café locations at Granville, Gastown, Yaletown, Kitsilano and Richmond and tell us what you like about them!