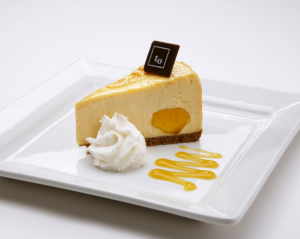 Our Mango Splash cheesecake is easily our most popular summer cheesecake — and now it's back! We usually feature a cheesecake a month, but this delightful dessert, made with real mangoes, is so good, we're happy to feature it through July and August.
Don't just take our word for it. Here's BC Living writer Catherine Barr giving our mango cheesecake a sweet review:
If you have fond memories of sitting at a sun-warmed picnic table with sweet, peppery mango juice dribbling down your chin, you'll go crazy for the more civilized mango delivery system available at Trees Organic Coffee this month.

Touted as having "Vancouver's best cheesecake", Trees' "Mango Splash" certainly suggests that statement's truth. It's the lightest, fluffiest cheesecake I've ever tried and has chunks of ripe mango mixed into the New York-and-mango-puree swirl.
You might say mango is the taste of summer at Trees Organic — and they go down nicely with our Italian Cream Soda (order the peach-mango flavour to go all out, or experiment with contrasts of raspberry, strawberry or watermelon).
Why not take a little vacation for an afternoon and splash into summer with our mango cheesecake? Yum!