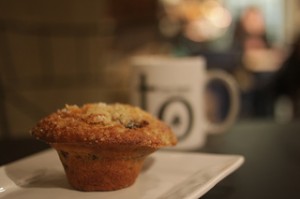 Our cafe has grown up since we set up our first flagship cafe at 450 Granville Street; fans of our organic fair trade coffee now have five locations to choose from, including our Gastown cafe at 321 Water Street. As Vancouver's premier heritage neighbourhood has evolved, we've been part of that story. We chatted with store owner manager and owner Shir Ben-Shlomo about what makes the Gastown location different:
Q. What do you notice first when you're coming into the cafe on Water Street?
Shir. The first thing is that unique Gastown look. You get that cozy, warm feeling when you see the brick and architecture and the inside of our cafe definitely matches what you see on the street. It's a natural-looking place that fits the neighbourhood!
Q. What have you noticed about the neighbourhood since you opened up this location?
Shir. More cafes, stores and restaurants are coming into the area, which keeps bringing even more people in. We're proud that we were one of the first cafes to open up here in the last four years.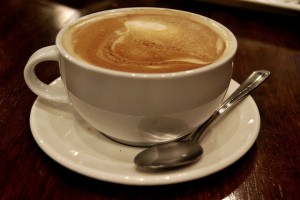 Q. Where do your cafe customers come from?
Shir. A lot of them are people who work or live in the neighbourhood, along with tourists and other locals. During summertime especially, we've got tourists from all over the world coming here. Especially if they're from Europe or Australia, they may want their coffee a special way, so we learn a lot about how people brew and drink coffee elsewhere. If they can explain what they want, we'll do it for them!
Sometimes people come in even after they've already had their morning coffee just to say hello to our cafe baristas and pick up a scone or a muffin. It's a very friendly vibe here.
Q. How about the people who work here in this cafe?
Shir. A lot of them have been with me for a long time, some of them several years. As a result, we're very close close to our customers that we see every day.
Q. It's neat to have that kind of loyalty.
Shir. That's why we're in this kind of business where we get to see them every day. Our customers are not a number to us. That's why our people are super-friendly, super-outgoing, don't try to rush you, and they listen to what you want. It's all about that personal touch.
For instance, one way we get to know our customers well is through our loyalty cards which we keep onsite. It's a Trees Organic stamp card that we hold on to for them so they're there when they need them.
Q. You have special events in the Gastown cafe sometimes, like your music nights for the summer, right?
Shir. We just started having the music nights again on Saturdays. We have different musicians every single week. It's classy and not too loud, so you can still have a coffee and sit down to talk with your friends.
We also do events with Gastown in general, like on the 21st of June we have the Music Festival coming up. In July we have Grand Prix in Gastown, where we try to promote the community. We take part in that.
Q. What do you recommend at the cafe these days?
Shir. Just like the other locations, we're featuring our Italian cream soda, which is like a refreshing cotton candy in a cup. There's also the strawberry cheesecake. Coming up in July and August, there's going to be the Mango cheesecake, which is by far our most popular cheesecake. Everyone comes in year-round waiting for it! It's always a great treat.
Have you been to our Trees Organic cafe in Gastown? Enjoy all of our locations at Granville, Gastown, Yaletown, Kitsilano and Richmond and tell us what you like about them!