Our Tasty Fair Trade Coffee Reflected in Golden Plates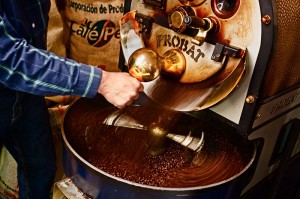 Once again, we're pleased to report that our Fair Trade Coffee has been recognized in the Georgia Straight's Golden Plates listings based on a survey of readers' choices. We're proud of our organic, fair trade coffee — which we roast ourselves in our Granville Street location (in case you were wondering why we have a big roasting machine in the middle of our flagship coffee shop).
As always, we're also grateful to the organic coffee farmers who we work with using fair trade practices for ensuring that the coffee beans we get are of the highest taste and quality we can get. We're always looking for the next golden opportunity to serve up a unique coffee flavour that your palette will appreciate at any of our coffee houses. Enjoy!