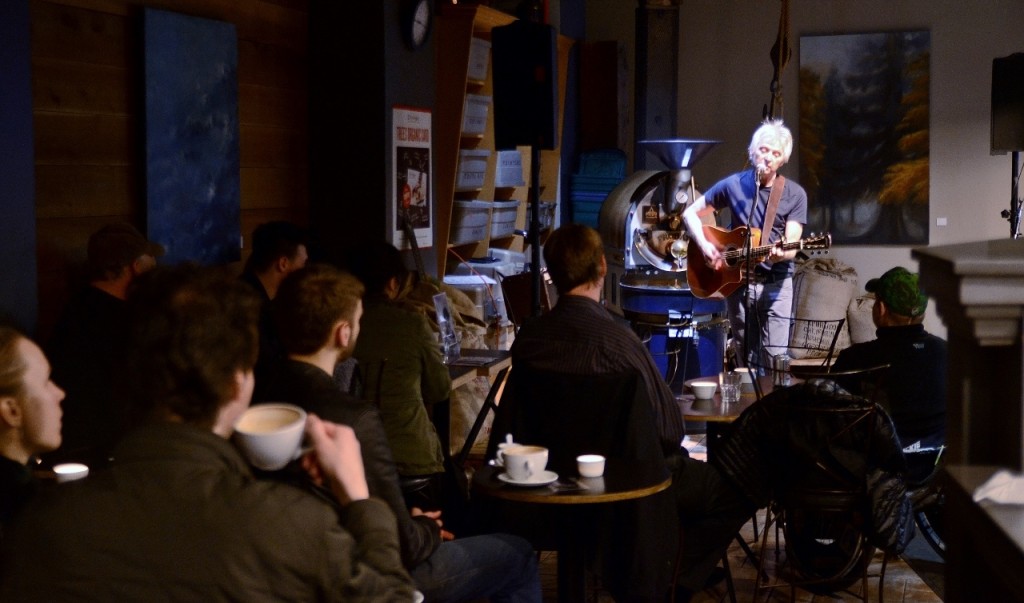 Trees Organic Coffee & Roasting House is committed to supporting the local music scene as much as it is to serving the best fresh roast organic coffee and hand-crafted cheesecake! For over 10+ years, our café on Granville Street has been the only independent coffee shop serving up Friday night live music on a regular, year-round basis in downtown Vancouver. The coffeehouse music event has become a mainstay for people wanting to enjoy live music in an intimate setting and for singers, songwriters or musicians to perform. The host of our successful Friday evenings is blues-folk-rock artist John Pippus. We caught up with John to get an update on the live music nights and his musical career.
Friday Night Live Music at Trees Organic
The live music night was started by Carly Rae Jepsen when she worked at Trees Organic as a barista and baking assistant. In 2006, John took over hosting the event from Jepsen, who later gained international music success. To this day, nine years later, John continues to book the musical talent for the Friday music evenings, as well as perform on occasion. Every Friday, there are three performances on stage between 8-10 pm.
TO. How would you describe the atmosphere of the Friday music nights?
John. It's a real coffeehouse experience – candles on the tables, dim lighting, and an audience that is there for the music, plus the coffee and cheesecake! Being known as a listening venue keeps performers and the audience coming back for more. Most other venues are noisy, where the musicians have to struggle to be heard, or have to play well known covers. We focus on original, acoustic music and this policy hasn't changed in the nine years I've been doing the booking.
TO. What is the mix of local and out-of-town performers? And, how do performers get booked?
John. About 80% of the performers are local and 20% are from out-of-town, with more touring acts in the summer. Our music nights are well known in the musician circles as a good place to play; therefore, performers mostly approach me for bookings. Anyone interested in performing should send their website link to me first and we'll go from there.
TO. With so many performances at Trees Organic over the years, are there any that stand out?
John. Recently, Haley Blais brought out an attentive crowd, even a fan who drove up from Bellingham. In the past we've had Dan Mangan, Hannah Georgas, Wanting Qu – who have all gone on to major success. They all stood out, but there are so many more that created musical magic throughout the years.
TO. What is your one advice for performers just starting in the business?
John. Play open mics. They're great for honing your performance skills, networking, and scoring gigs. Open mics give you the feedback you need to tell you how you're doing. They are welcome to play at the Thursday Open Mic nights at Trees Organic, hosted by Marq DeSouza.
John Pippus – Singer, Songwriter and Musician



Born in Winnipeg, John has lived in Vancouver for most of his life. He got his start in music early when he learnt how to play rock and roll on his guitar during summer camp at the age of 15. After playing off and on for most of his life, he began writing and performing more seriously about 12 years ago. Since then, he has released four albums, toured as a solo artist or with his band in Ontario, Vancouver Island, and in The Netherlands. Plus, he's had some great collaborations, including Ra McGuire (Trooper's lead singer and founder), Eric MacFadden (P-Funk and Eric Burden's guitarist), and acclaimed producers/songwriters such as Winston Hauschild, Jeff Dawson, and Mario Vaira.
TO. Your music spans many genres, from rock, blues, folk, pop to country. What is the predominant style of your music today?
John. I've released four full-length albums. The last two were blues-based and I've become known as a '"bluesman". But for the past year, I've been writing more pop songs, amped-up singer/songwriter tunes. I think it's because when I write these days, I'm often thinking about my band and what would work in that context. So the quieter, confessional story songs are taking a back seat, while the more upbeat, dance or groove based songs get more of my attention. But every once in a while, I write something, take it to my band , and they say – "no, this is one you should just do solo".
TO. Your story-telling lyrics have earned high praise. Can you tell us about your song writing process and where do you get your inspiration?
John. Writing a song that not only has a catchy melody, but also original lyrics and a unique viewpoint that resonates time after time, is always the goal. My inspiration generally comes from just living, keeping my eyes and ears open, thinking about things and then when I stumble on a melody, riff, or chord structure that suggests a certain mood (despair, hope, anger, etc.) I start mumbling syllables and sounds that fit that particular musical fragment I'm working on. And depending on what I've been thinking about, those primal sounds turn into recognizable words and I go from there to craft what I have into a possible song.
TO. Congratulations on the recent release of your new EP – The Hindenburg Affair! What is the story behind the making of this EP, particularly the plot for the song Burn?
John. Well, "Burn" sounds pretty raunchy on the first listen. But it's really about two, shall we say, edgy lovers. It's not autobiographical! It's just a song! My co-writer, Aynsley Leonard and I were playing around with the chord structure and I think she came up with the first couple of lines ("You broke a wine glass over my head / I grabbed you pushed you down on the bed"), like out of nowhere, and we just went from there. "Burn" is one of three songs we recorded one day in November at the Hindenburg Nightclub. We were doing three live performance videos with a professional video crew. As it turned out, after the final mixing, I was so pleased with the results and released the songs as an audio-only EP, along with posting the songs on Youtube. You can see and hear all three tracks – Burn, Secret World and Call Me the Breeze – here.
TO. What is your favourite song to perform and the story behind it?
John. I have probably a dozen songs that I would call favorites. A few I like doing solo are "Shopping Cart Joe", "Half A World Away", "Blurry Photograph" (from my first EP released in 2006) and "This Is Our Time". Songs I like playing with my band include some of the groove-based blues tracks like "Whole Lot Of Your Love". No, it's not the Led Zep song, it's my own track (with the same or similar name). The instrumental version of this song is the closing theme on a weekly national current affairs program on CBC radio called "The 180 Show". I've got a couple of newer ones, not recorded yet, that I do with the band because I like the three-part harmonies.
TO. Who are you musical influences and what are you listening to these days?
John. The usual suspects for someone of my vintage: The British Invasion bands of the 60s, Motown acts like Marvin Gaye and Otis Redding. The California bands of the late 60s and early 70s. A huge influence continues to be the folk blues artists like Robert Johnson, Son House, Ledbelly and the Chicago bluesmen like Muddy Waters, Howlin' Wolf, Paul Butterfield and so on. That said, I've been learning more cover songs lately that my band can do to keep the dance floor hopping. The last song I learned was "Lonely Boy" by The Black Keys, before that it was "Valerie" by The Zutons but made famous by Amy Winehouse. My friend in Ohio, Peter Ross, sent me the new Alabama Shakes album the other day and I've been working my way through that. Some pretty solid R&B tracks on there. St. Paul and The Broken Bones are another amazing R&B group I would love to see perform live.
We wish John continued success with the Friday night events! Please join us weekly for coffeehouse live music at our cafe on Granville Street, with no cover charge, and be sure to check the schedule for upcoming performers.