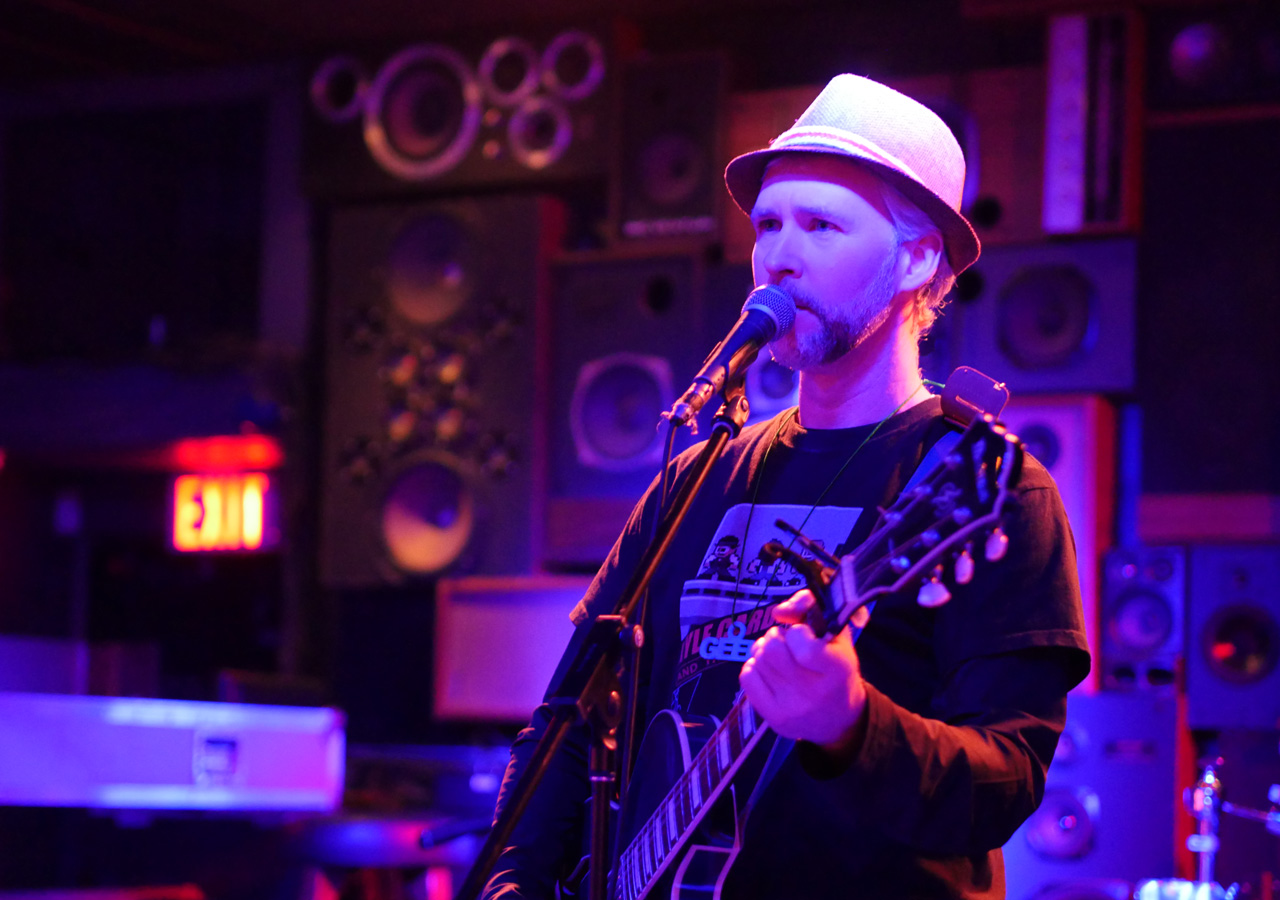 Vancouver's independent musician-singer-songwriter, JeffaCubed, is this month's featured coffeehouse musician profile. He will be performing at Trees Organic Coffee on Granville Street on November 25th, 7:30pm, for a special music event that he inspired and helped organized – Coke Machine Show – a tribute to Gord Downie!
JeffaCubed (a.k.a. Jeff Arsenault) has followed many pursuits over the years, but the common thread since the age of 17 has been his love of music and songwriting. Along the way, he has written about 70-100 original songs, and is primarily a self-taught musician with the guitar as his instrument of choice.
His musical style is an eclectic mix of Jazz, Blues, Folk and Celtic influences (mainly from his early years in Nova Scotia) with poetry, story-telling, and analytical thinking thrown in. It's the later that explains his interest in sound itself (specifically the intersection point between music, technology, and sound) and in using technology for his live-sets.
He's actively involved in Vancouver's indie-music community, largely performing in the rotation of open mic venues as a solo artist and testing out new songs, particularly as he has been a prolific songwriter in this past year. JeffaCubed is not only a seasoned and talented musician-singer-songwriter, but a huge supporter of local music. He is considered, by many, as the 'biggest' fan and unofficial photographer of Trees Organic's live music nights on Thursdays (Open Mic) and Fridays. JeffaCubed's creative photo compilations of performers can be found on his social shares, including Instagram.
In this musician spotlight, get to know JeffaCubed and his music, and save the date to attend his upcoming tribute night with local music talent interpreting the songs of Gord Downie. It's ultimately a celebration and showcase of the tremendous person that is Downie and how impactful his songs have been (and continue to be) to generations of Canadian musicians and music fans. The event is also a fundraiser with all donations raised going to the DownieWenjack Fund, which is Downie's latest initiative. JeffaCubed will be joined by Zach Lancaster, Colleen O'Connor, Zulu Panda, Rob Filo, and Marq De Souza (also the host/mc). And, time-permitting, JeffaCubed will close the evening with an original medley that he wrote for the tribute event!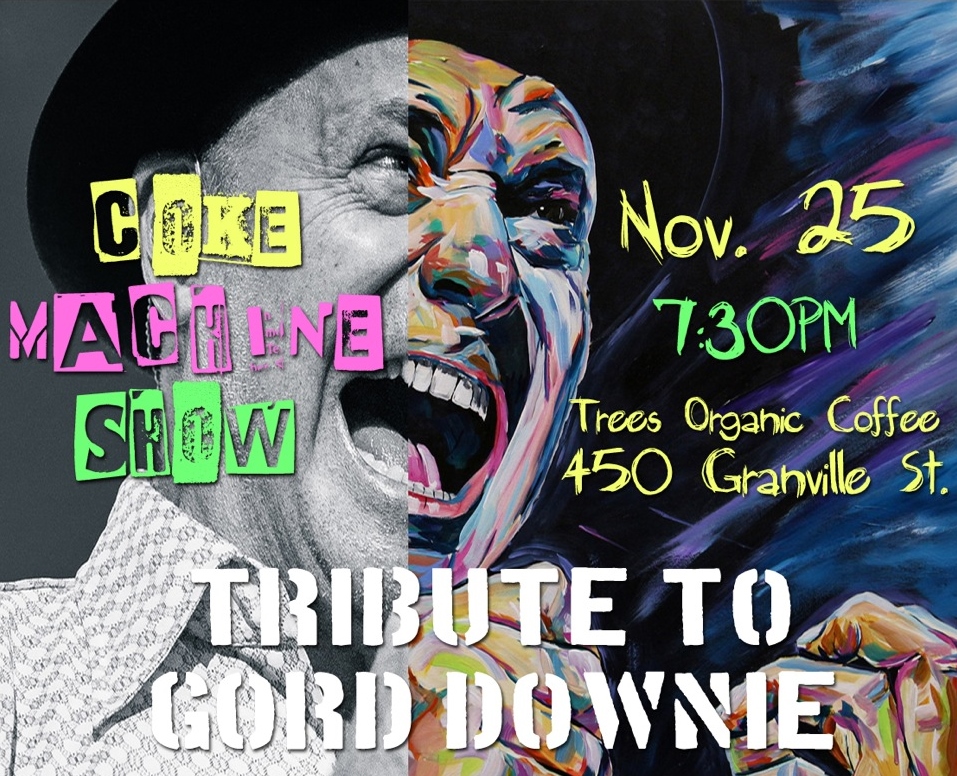 In Conversation with JeffaCubed
TO. What inspires the stories behind the music?
JeffaCubed: One of the aspects of songwriting I'm most fascinated with is that ability to take events and situations that may seem benign and unmemorable, yet re-arrange those experience or observations to tell a story that's innately "relatable" and "familiar". As with many musicians, I tend to write from a perspective of "place", which I suspect is why so many musicians and songwriters enjoy travelling and experiencing new places. One of my latest new songs "Summerside", is written about my original hometown of Summerside PEI. My hope is to phrase lyrics and weave stories that elicit an emotionally charged and familiar connection in myself, and with any luck, the listener. I firmly believe that the words we choose shape our experience of reality, so when it comes to songwriting, I do my best to choose words wisely!
TO. How has your fascination with music, technology and sound influenced your songs?
JeffaCubed: For many years, I did music purely with my voice, my lyrics & my acoustic guitar – which I still love to do, and at the most basic level, ALL my music 100% needs to pass the test that it can be performed in its purist, unamplified manner. That being said, I didn't really find technology that creative in music until 8 years ago, when the iPhone & iPad made the ability to bring things like real-time amplifier modelling, sampling, looping into the arena where THAT technology was nimble, intuitive and could fit in your pocket. We're at the early stages of what's possible between music + technology + sound.
TO. If you could collaborate with any songwriter, who would that be?
JeffaCubed: I'd love to spend an afternoon with The Edge from U2, having a sonic-conversation on how echo and delay transforms a single guitar, into a second, simultaneous instrument! I'm not an enormous U2 fan (of their current work & direction), BUT as a songwriter & guitarist The Edge has had a transformational effect (pun intended) on the guitar and live-music as a hybrid performance of music, technology and sound.
TO. What is your advice for musicians that are new to the Vancouver music scene?
JeffaCubed: Get out there and play as much as possible. I guarantee there are places to play that you have not even thought nor heard about, yet! For years, I was in a loop of "write, practice, record <> write, practice, record". The primary difference now in my music journey, is my commitment (to myself) to bring my songs to a wide variety of open-mics and longer-sets throughout the city. Some folks ask me why I go to so many open-mics, and the answer is twofold: a) that's where the musicians are, and b) it's rare (exceedingly rare) to truly hone one's craft as a musician, without sharing one's songs in a public, live-performance environment. As Gord Downie once said to George Stroumboulopoulos "Songs are only half finished when they're recorded… perform to finish them."
TO. What do you love most about the Vancouver music scene?
JeffaCubed: What I LOVE is how generally supportive, collaborative, empowering and connected I am with others who are on their own musical journeys. I'm enjoying what I do musically now, more than at any other time in the past. That enjoyment is likely rooted in the word "community".
TO. What is the origins of JeffaCubed?
JeffaCubed: I originally created JeffaCubed back in 2010 as a way to separate my music from my name. The origins of JeffaCubed are twofold: a) Jeffa is my first name and last name initial, and b) I like math and I find things to be manageable and memorable in terms of three's; hence, cubed.
TO. What type of music do you enjoy?
JeffaCubed: I LOVE music that is genuine, heartfelt and emotionally-charged. Those three criteria could span genres like Jazz, Classical, Blues, Electronic, Folk, Grunge & Punk. A few of my favourite musicians and performers include the likes of Robyn Hitchcock, Sigur Ros and Nick Cave…though the entire list is MASSIVE.
Image of JeffaCubed is by Jordan Lloyd Watkins.