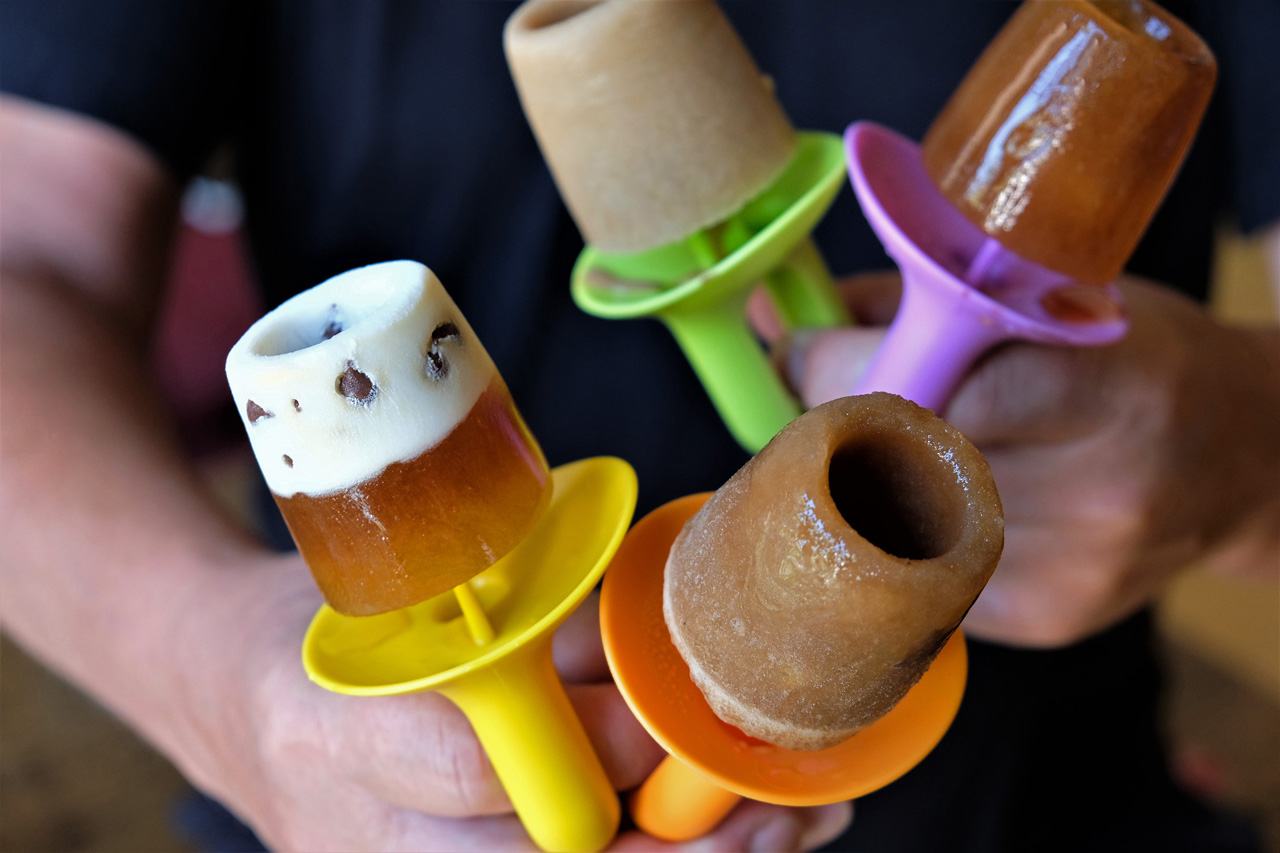 Iced coffee in the summer is delicious on its own, but it can be extra refreshing as a frozen treat. For those scorching summer days at home, why not satisfy your java craving with a coffee popsicle? Yes, please….just when you thought coffee couldn't get any better this summer! Popsicles aren't just for kids, so turn your favourite home brew of our single origin, organic coffee into a grown-up, buzzworthy ice pop. To give you some inspiration, here's our easy-to-make and versatile DIY how-to suggestions.
Handmade Organic Coffee Popsicles for Summer
With just a few ingredients, steps and items, you can make a frozen riff on your favourite at-home coffee.
Popsicle Moulds:
The quantity of ingredients will depend on the popsicle moulds that you use. Reusable popsicle moulds are the easiest; but if you don't have or want any, then purchase popsicle sticks and get creative with these stand-in mould hacks: mini paper cups, small baking tins, ice cube trays, espresso cups or small glasses. Once the popsicle mixture has been poured, then cover these DIY moulds with plastic wrap and insert popsicle stick through the plastic wrap.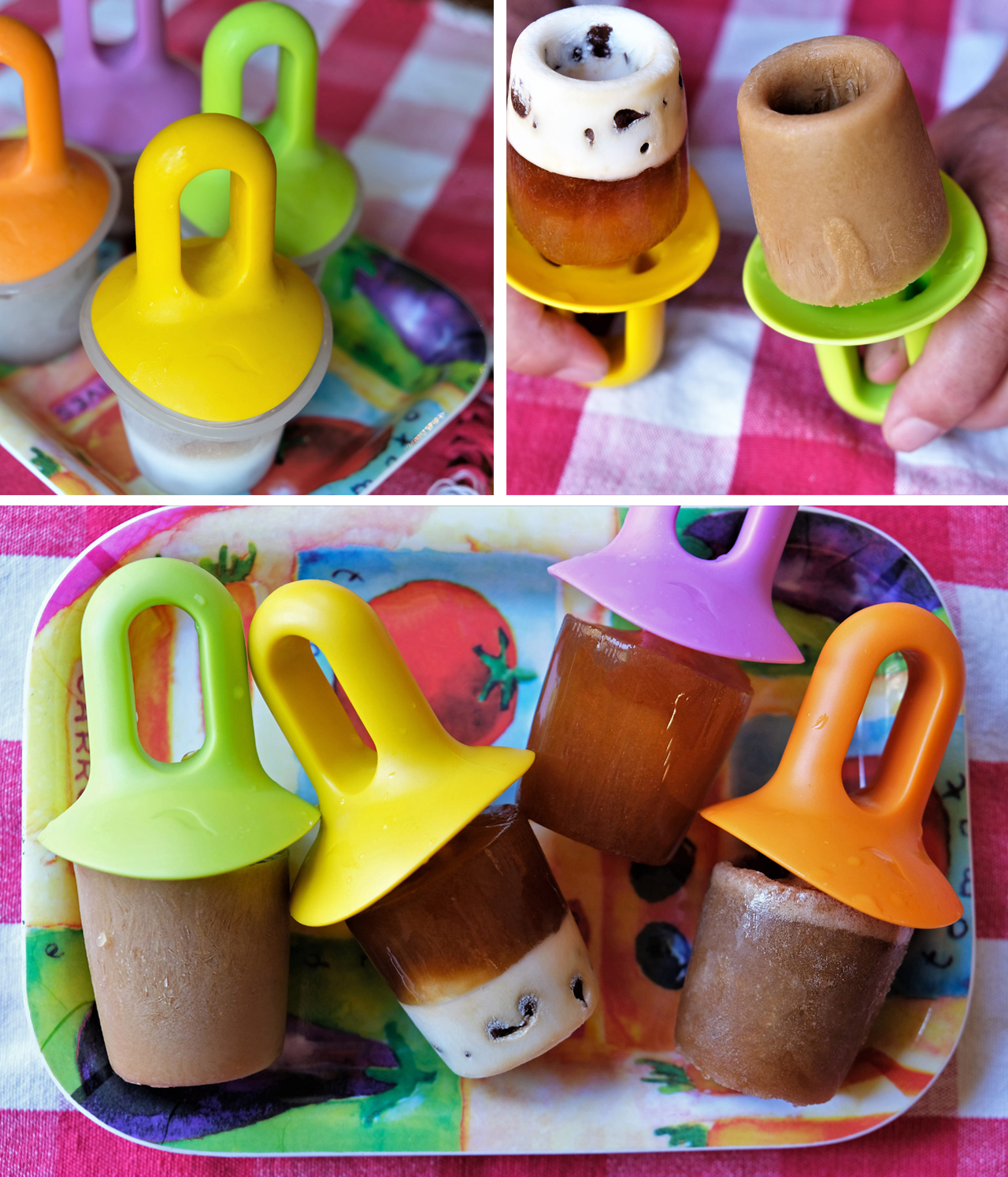 Image (left to right): Coffee & Milk, Coffee with Chocolate Chip & Coconut Milk, Coffee, and Coffee & Banana Smoothie
Ingredients and Directions:
Coffee. Brew your Trees Organic Coffee at home as you normally would (eg. drip, French Press, pour over, percolate, etc.), but adapt the quantity to fit with your popsicle moulds of choice.
Additions. For a more flavourful way to chill out, prep your organic coffee popsicles with a few embellishments. Suggestions include:
Add your sweetener of choice, if any; but try to sub in maple syrup as a fun option.
Add coconut milk, instead of regular milk or cream, for an exotic creamsicle version.
Add a splash of vanilla extract or sprinkle of cinnamon.
Add some cocoa for a mocha-style ice pop.
Add banana and coconut milk to your coffee and blend it into a smoothie mixture.
Then, chill your blended coffee or plain black coffee in the fridge.
The combos for coffee ice pops are endless. Get creative and experiment to find your personal favourites.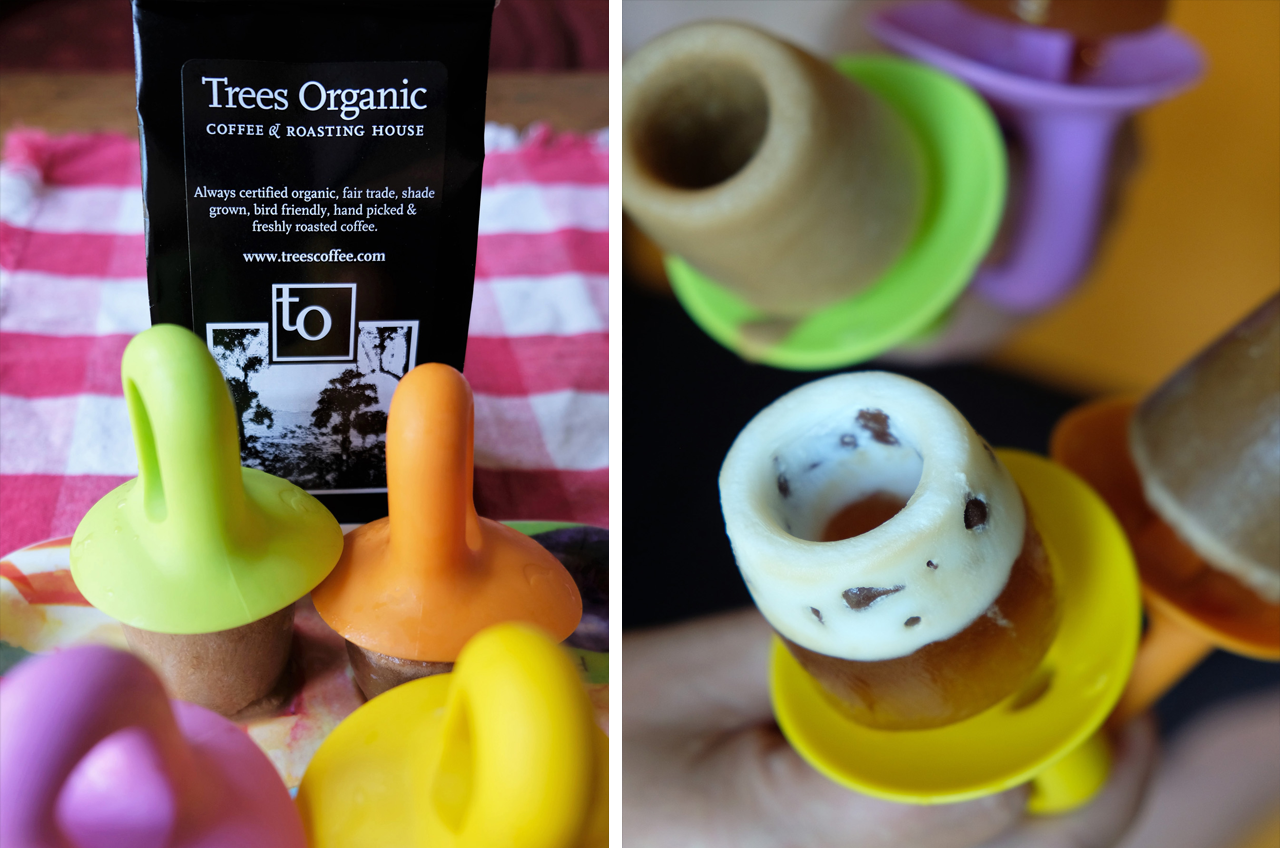 Layers. For a single layer popsicle, pour your chilled (but thoroughly stirred) coffee mixture into the moulds. Place mould tops with sticks or sticks/plastic wrap, and freeze. The more frozen, the better.
To make a dual-layer or dual-tone popsicle with more fun ingredients, try dropping in a small amount of chocolate chips to the bottom of your mould, then fill up to a third or half of each mould with sweetened coconut milk. Freeze them until solid, then pour the coffee mixture over the frozen ingredients, filling the mould to the top. Place the mould tops with sticks or sticks/plastic wrap. Depending on the type of your mould, you may need to place the sticks with the first layer. Freeze until completely frozen.
Remove popsicles from the moulds by applying some warm water on the outside. Enjoy your homemade organic coffee popsicles and have fun transforming your beloved coffee into ice-cold coffee treats for summer!
Trees Organic Coffee beans can be purchased for home brewing at any of our five Vancouver cafe locations!