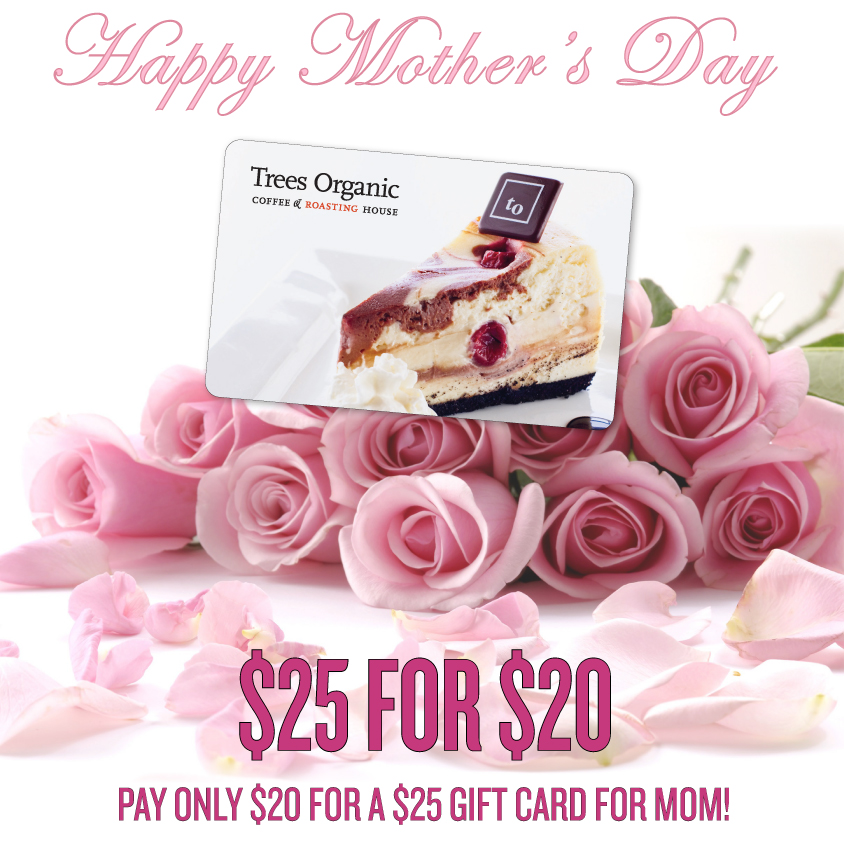 This Mother's Day, we're pleased to make it easier for you to celebrate the wonderful mothers in your life with a special Mother's Day Gift Card Offer*! Buy a $25 gift card and pay only $20 at participating Trees Organic Coffee locations until May 14, 2017.
It may be hard to find the perfect present for your special mom, but giving thanks is convenient and flexible with a gift card of delicious choices. Allow mom the fun of enjoying a selection of organic coffees, luscious cheesecakes, cafe treats, fresh baked goods, loose leaf teas, and more. It's also a gift of quality café time – whether she uses the gift card for her favourite indulgences or you're treating her to some together-time.
So, don't feel lost for what to give mom. Surprise her with a gift of coffeehouse flavours and take advantage of our special Mother's Day gift card offer. She won't need to know how easy it was. Mum's the word!
Participating Trees Organic Coffee cafes to purchase the Mother's Day gift card offer are: Granville Street, Yaletown, Kitsilano and South Granville.
*Trees Organic Cards have no fees or expiry and can be reloaded anytime. Register the card for balance protection against loss/theft and for extra perks. Cards can be used at any of our five Vancouver locations. Cannot be combined with any other promotional offers. Trees Organic Card FAQ's and Terms of Use.